Here at one of the top NYC app development companies, we're always keen to help savvy and innovative businesses find new solutions through our effective, efficient, and creative custom apps. That's why, when we were contacted by Ground Central Coffee – a modern and increasingly popular chain of coffee shops – we knew we had the skills and experience they needed in order to not only produce a highly effective and smart app for their customers but also to increase their revenue as a result of the app being released.
The project itself was dealt with swiftly and efficiently, and the results were impressive, to say the least. The resulting app not only looked great and operated smoothly, offering their customers a wide array of options which boosted loyalty and a sense of community, it also ended up leading to a huge increase in company revenue.
As coffee shop apps continue to become more popular and widely adopted, we felt it would be the perfect moment to take you through the journey of this particular successful app and look at its various features from conception to delivery, and how it resulted in such a successful outcome. The Ground Central Coffee app contained all of the essential app features we'd recommend for any cafe or small food and drinks businesses – so if you are seeking a custom app for a company in this particular industry, it's a fantastic example of how such apps can be easy to implement. What's more, this case study shows how to bring about great rewards, while enhancing the loyalty of your customers and their brand awareness for your business. Read on to find out more!
The Client Requests
When Ground Central Coffee got in touch with the Messapps custom app development team, they had a clear set of objections in mind. They felt (and we heartily agreed) that the key to increasing their revenue and profits lay in a trio of fundamental factors. These were:
Reducing customer waiting times and lines;
Introducing a rewards system to offer loyal customers freebies and discounts;
Creating a community around the coffee chain.
Click to see Ground Central Case
All three of these factors were essentially based on one key concept: increasing customer loyalty, and encouraging their clientele to deepen their relationship with the coffee shop and their sense of 'belonging'. With these main points in mind, our team set about coming up with a series of app features and plans which would achieve all three objectives, and introduce even greater levels of loyalty through the inclusion of certain user-friendly features and app pages.
Branding
One of the first things we needed to consider when working on the Ground Central Coffee app was how to include the company branding in the app itself. Luckily, this particular coffee shop was already well established, and had a clear and distinctive image that we could work with – and creating that seamless connection (between the physical coffee shop and the virtual space of the app) is key to the success of any app of this kind.
With their bold, modern, and avant-garde monochrome color palette, and clear use of certain fonts and typefaces, it wasn't much of a challenge to bring the Ground Central Coffee themes and branding into the app itself. The result templates for the app, therefore, were as distinctive as the branding of the cafe and helped to boost that sense of connection between the custom app and the coffee drinker's 'real world' experience.
Pre-Ordering System
The first priority of the client when ordering their app was a way of reducing customer waiting times. Studies have shown (and we all know this from experience, too) that coffee customers won't wait too long for their drinks, and seeing a large queue at the till will automatically prompt them to consider looking elsewhere for their caffeine fix.
We went about solving this issue with great efficiency, simply by making the pre-ordering system one of the key features of the Ground Central Coffee custom app. With their smartphones, their clients were then able to choose the coffee or items they wanted in advance, and then avoid waiting in line in order to pick it up. We enhanced this particular feature by including an 'add-ons' page to the function (which allowed them to request specific syrups, milk types, toppings etc), and also by allowing the customer to track the progress of their coffee while it was being made.
The really great thing about this particular feature is that it doesn't only increase the efficiency of the coffee shop for both the merchant and the customer, it also works as a method of boosting customer loyalty – which is absolutely key when it comes to increasing your revenue. The customer, by not having the wait in line like other non-regular customers, has the sense of being among an exclusive group of valued clients. This creates that sense of mutual appreciation and loyalty and ensures they return time after time to the same cafe for their daily drinks and snacks.
The 'GC Wallet'
Another way we boosted efficiency and reduce line times was by including a virtual branded wallet on the app. Customers could load money onto their virtual wallet from a credit card, and use this instead of a card or cash payments for buying their coffee.
Rewards Program
In order to really maximize customer loyalty, and ensure that their app holders returned to Ground Central Coffee time after time, a rewards program was an absolutely essential part of this custom app.
After consulting with the brand at length, it was decided that the best kind of rewards system to implement into the app would be one that worked in conjunction with the GC Wallet mentioned above. Whenever cash was uploaded to the virtual wallet, and whenever drinks or pastries, etc were purchased with the app, points would accumulate on the rewards program. We added a gamification aspect to this, in the form of a branded logo which would gradually be revealed as more points were collected. Once the logo was revealed in its entirety, the customer would be entitled to a full $5 off their next purchase.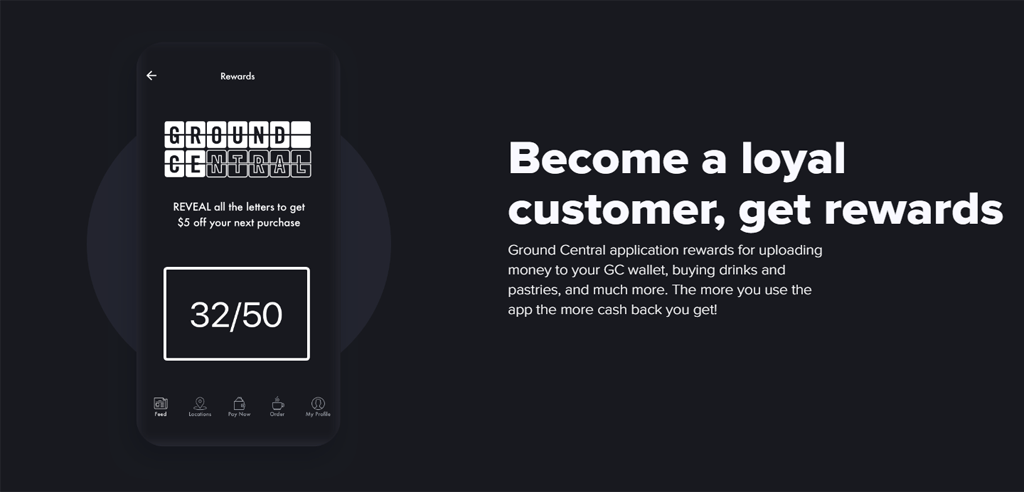 Click to see Ground Central Case
The result? Customers were encouraged to only buy their drinks and snacks from Ground Central Coffee whenever convenient, and would even go out of their way to visit one of the brand's outlets in order to collect more points. It also encouraged a level of engagement with the app and ensured that the app was being used as intended to make the process smoother, quicker, and more efficient overall.
Location Feature
We felt that the Ground Central Coffee custom app needed a location feature, in order to offer customers a handy tool where they out and about and in need of their favorite drink. This simply allowed the user to know whether or not there was a cafe in their vicinity, meaning they wouldn't miss the chance to enjoy a drink if they were in another part of town.
News Feed and Company News
The client was very keen that they wanted to increase the sense of community that existed around their brand. From our extensive experience, we at Messapps know that one of the best ways of achieving this is by including a news feed in the app. This encourages customers to not only keep updated on what's going on at their favorite cafe, but it also means they'll spend longer on the app as they catch up on the coffee shop news and check out the latest inclusions on the menu, special offers, and promotions.
Click to see Ground Central Case
Direct customer communication is really key for developing brand loyalty and communities. We wanted the Ground Central Coffee news feed to look sharp, fit in well with the overall vibe of the app, and give the company a chance to get in touch with their customers with ease. Via the news feed, they could also provide secret offers, special discounts, and keep their clientele updated with events or changes to the menu, thus massively increasing engagement and that unique sense of belonging.
All of these factors (and some more besides) led to Ground Central Coffee achieving their aims of increasing customer loyalty, speeding up waiting times in the cafes themselves, and creating a real sense of community around the brand. These things then, in turn, translated to increased profits and revenue, demonstrating clearly the potential that custom apps have in this type of business.
Want to find out how Messapps can help you achieve similar levels of success? We've worked extensively with clients in a massive range of industries, and we have no doubt we'd be able to create a custom app that really makes a difference for you and your brand.
Did you like the article? Share it!