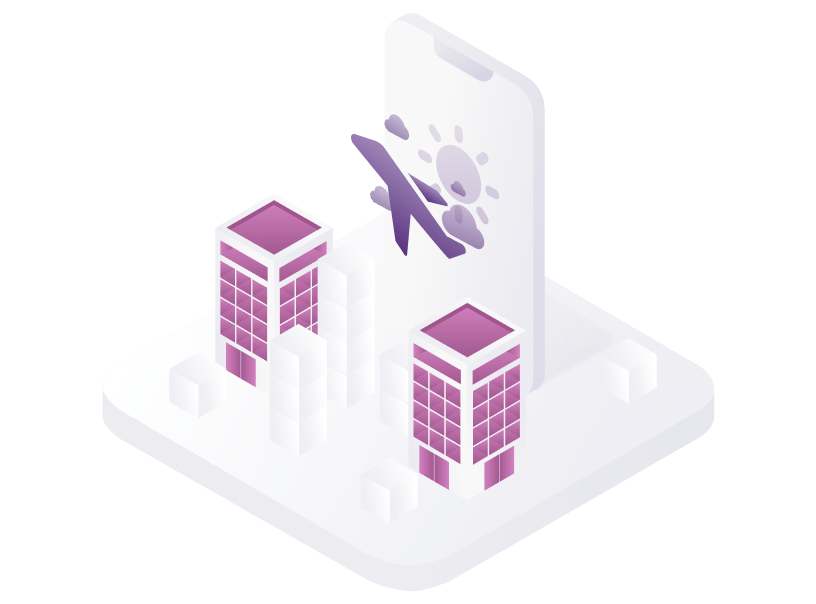 Travel and Hospitality
App Development
Nowadays, in an age where spontaneity has been kept to a minimum and planning is the name of the game, the relevance of travel and hospitality brands become realized months, sometimes even a year before their customers' trips even begin.
Why Messapps is
the best?
Full-Service App
Development
Company
Experienced
developers
and designers
Ranked top app
development
company
Apps we've built
are featured in the
top tech media
Our Experience Can Help You Grow

The prominence of travel application development is continually growing as more and more consumers are relying on these platforms to serve their travel needs. The following stats prove the growing importance of travel and hospitality apps:
Mobile accounts for 37% of travelers looking for flights and 43% for accommodations according to Phocuswire. Consumers are supplementing desktop booking with online searching.
4% of check-ins and 1% of check-outs occur through a mobile app. However, when a mobile app is employed, higher guest satisfaction is an associated result according to J.D. Power & Associates.
Only 18% of travel and hospitality brand executives are confident that their company is digitally apt according to Adobe.
78% of travelers said that content from travel brands has influenced their destination/accommodation decisions according to Expedia.
Digital travel sales are predicted to reach $198 billion this year according to Social Media Today.
Benefits of Having App in Travel Business

Below are examples of potential solutions and benefits your app can provide. However, these only express our capabilities and exemplify what a successful travel and hospitality app features. If you have unique and even unconventional ideas, we'd gladly entertain them and be happy to develop them.
For consumers that are always on the go, a great mobile solution for searching/booking flights is a necessity. We understand that flying is not cheap, and employing a travel agent to find you the best deals can be counterintuitive. Apply various filters and find a flight that best suits your needs.
Perhaps your travel app will feature various prominent locations and establishments within a particular location. A review/rating system would allow users to narrow down places they want to visit while in the area, based on what others have to say about them.
Nowadays, practically no one travels without having a roof over their head booked in advance. You may want to build a hotel aggregating service that finds the best accomodation for you according to specific parameters. Or perhaps you own a hotel and want to create a loyalty program that is linked to an app.
We understand that having an emergency back home is much less severe than having an emergency in an unfamiliar place whose language may be incomprehensible to you. To dilute a scary situation, your app can include listings and locations of various emergency services in the area.
A traveler may not be so familiar with getting around the city, especially upon arrival. An app that helps them find car rental services around their specific location would undoubtedly avoid a stressful situation.
Attractive Offers / Discounts:
It seems like discounts are constantly being thrown about in the travel and hospitality industries. Maybe you'd like to develop an app that aggregates these discounts, promoting certain airlines and/or hotels. Or maybe you're already in one of the industries and would like the ability to offer mobile discounts for your loyal customers.

What to expect
Our potential is only limited by your creativity and inventiveness.
Even though here at Messapps we pride ourselves in travel app development, we also have a broad range of experience and our abilities are not restricted to travel and hospitality apps.
The breadth of our experience allows us to take knowledge from various industries and adapt them to the travel and hospitality industry. We believe this gives us an edge that most competitors don't have.
We'll take you through every stage of app development. From brainstorming to wireframing, and then to design, development, and launch. We're with you every step of the journey.
We value your time
and budget
We understand that time may not be on your side and this project needs to unraveled ASAP. Or perhaps expenditure is limited, and a full version just isn't in scope.
---
It's ok, we're flexible, we give you options. You can either choose to focus on one platform such as iOS, or build for both. If building for both is a must but time and budget are significant constraints, we can develop a cross-platform app
depending on the complexity of the app. Whatever the case is, as your travel app development company, we're sure that we can work something out and make your vision come to life.

What our clients say
"The team acted in accordance with the highest professional standards."
---
"Their responsiveness is hands down the most impressive thing about them."
---
"They really care about the actual project and not just the technical objectives."
---
"They had a functional shell application up and running within weeks!"
---