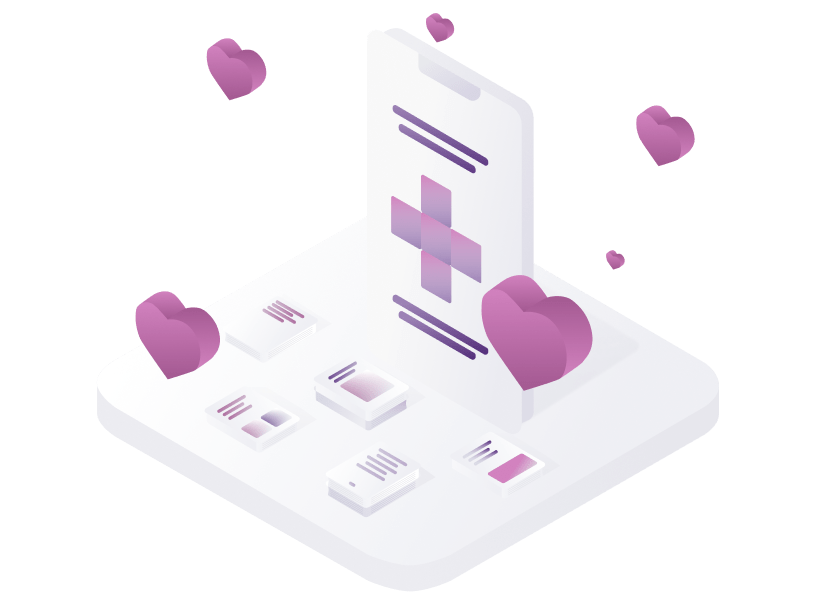 Healthcare App Development
Get insight on how our mHealth app developers make our apps look as awesome as they are right now.
Medical App Development
Advantages
There is much growth yet to be realized in the healthcare mobile app development sector, or 'mHealth.' Apps such as Epocrates have seen repeated use, with 80% of smartphone-using physicians using the app 12 times per week, on average according to Manhattan Research.
---
Philips, the official tech sponsor of SXSW interactive, compiled the top 10 technology trends at the premier industry conference. Results are as follows:
80% of consumers said that they believe Wearable has a huge potential in making healthcare more convenient.
---
With monitoring and support over the internet, the reduction to health system repair time would be up to 50%.
7 out of 10 patients would be very comfortable with communicating with providers via text, emails, and video as oppose to in-person visits.
---
Consumers are more concerned with data security than convenient access to test results and diagnosis.
71% of physicians have adopted Electronic Health Record System.
---
71% of millennials said that they'd prefer if their doctor employed a mobile app.
The cloud-computing market is estimated to grow at annual rate of 20%.
---
Population Health Management:
70% of medical apps providers report seeing notable change in patient care such as cost savings and more effective prevention planning, which can be attributed to population mHealth infrastructure.
What to Expect
Based on our experience in healthcare app development, our potential is limited by little. If your a practitioner looking to streamline processes, we'll build an app that'll simplify examination and treatment. If what you're looking to build is more client-centric, perhaps giving your patients a tool to track their health, we can develop an app that'll help them view their results and monitor their health.
Even if your idea is more bold and unconventional, here at Messapps, we love a good challenge. We're confident that with enough brainstorming, we can make it work.
Solutions and
Benefits of Medical App Development
Every app has a purpose. We strive to validate that purpose by translating it through the projects we take on. Your app will surely make individual lives more convenient, efficient, healthful, and safe.
---
First and foremost comes security.
All medical apps we develop comply with strict security standards: touch ID biometric identification, automatic logoff, and encryption, are just some of the ways we ensure patient/physician security.
Next comes seamless integration between the software we develop for you and your medical systems. This entails: EHR/EMR, RIS (radiology information system), LIS (laboratory information system), RCM (revenue cycle management), scheduling and any other systems that need be connected.
---
Being able to contact a physician around the clock, interactive video consulting with a physician, and push notifications notifying you of ready results.
Perhaps you're envisioning benefits that could potentially shakeup the mHealth industry. We're interested to hear what your bright mind has come up with. Of course all your ideas are your property. We would never disclose your information to any other party without your permission.
We value your time
and budget
We understand that time and budget may be an issue. We're also confident that we'll be able to tailor a package to your constraints.
---
Whether you want an MVP (Most Viable Product) version of the app to take to investors, or a full-fledged app that will rattle the industry, we're here to make turn your vision to a reality.
Here at Messapp's we take pride in being a healthcare app development company. Whatever that vision may be, we trust that it might save a life someday, so you bet that we'll build it.

What our clients say
"The team acted in accordance with the highest professional standards."
---
"Their responsiveness is hands down the most impressive thing about them."
---
"They really care about the actual project and not just the technical objectives."
---
"They had a functional shell application up and running within weeks!"
---