Transport and
Logistics Apps
Logistic App Development Company in the Heart of New York. We help logistics companies get ahead with our innovative approach.
Thanks to our concise and complete technological expertise, we've grown to become an industry leading app development company whose professionalism has helped clients achieve impactful results across the globe, and across a wide array of different industries. By bringing our knowledge, experience, and comprehensive approach to our clients, we have the capabilities to develop the unique and bespoke mobile apps and software that truly makes a difference. Whether you're in logistics, warehousing, container shipper, transport, or the courier market, we are confident that we have the app solutions you need to take your business further.
Why Messapps is
the Best?
Full-service app
development
company
Experienced
developers
and designers
Ranked top app
development
company
Apps we've built
are featured in the
top tech media
Benefits of Having App
in Transport & Logistics Industries
By using innovative and cutting-edge technology, and by consistently staying on top of developments in the industry, we've been able to deliver lasting application solutions to leading clients in logistics. In our portfolio, you'll be able to see quality examples of how we unfailingly deliver complex, time-sensitive projects for clients such as yourself, and utilize a thoroughly modern, forward-thinking approach to iPhone app development and more.
We create effective solutions for the delivery and intake of shipments
We utilise localized communication to considerably improve field productivity
With an app you could open new avenues for heightened customer relationships and communication
Our solutions could help you to optimize logistics in your business
Your new app could optimise vehicle routes and resources, and assist you in optimising warehouse space
We help you streamline your operations and records by using paperless documentation
What to Expect from Transport App Development

Innovations & Accessibility
Your team needs to stay on top of resources and databases in your field 24 hours a day. With our bespoke software and innovative apps, your staff will be able to access the information they need, when they need it the most. What's more, they'll be able to make decisions – bolstered by real, updated data – wherever they are, with just the push of a button.
---
Efficiency & Affordability
Cost efficiency is always our starting point whenever we're working on app development. We can streamline your operations with newly developed software, or integrate pre-existing software to help keep an eye on your bottom line. What's more, we utilise scheduled reminders and transparent reporting at all times, and use an automated service to ensure we provide a service which perfectly suits any budget.
Our Competitive Advantages
We know how important it is to build long-term relationships with clients, and ensure customer satisfaction at all times. That's why we streamline our systems to allow our clients and their customers the greatest of ease when using our apps – you'll be able to immediately access a customer's history, and even follow live data regarding delivery statuses, too.
---
Benefits you will recieve
Your business deserves to have the edge over your competitors, and that's why we go to such lengths to ensure we offer high quality services with cost-effective technologies. With our app development company, you'll be able to manage your client information and work history data, while simultaneously optimising your transport operations, delivery coordination, warehouse usage, and all other routine tasks. This all results in a honed level of service which your customer base will deeply appreciate.
We value your time
and budget
Get in touch with us today, and give us the opportunity to provide your business with a personalised portfolio of projects which not only match your own business aims, but which will also help you develop your own ideas for the software you require. Our services are bespoke, innovative, and effective… and we've got the skills and expertise you need to take your business to the next level.
Let's Talk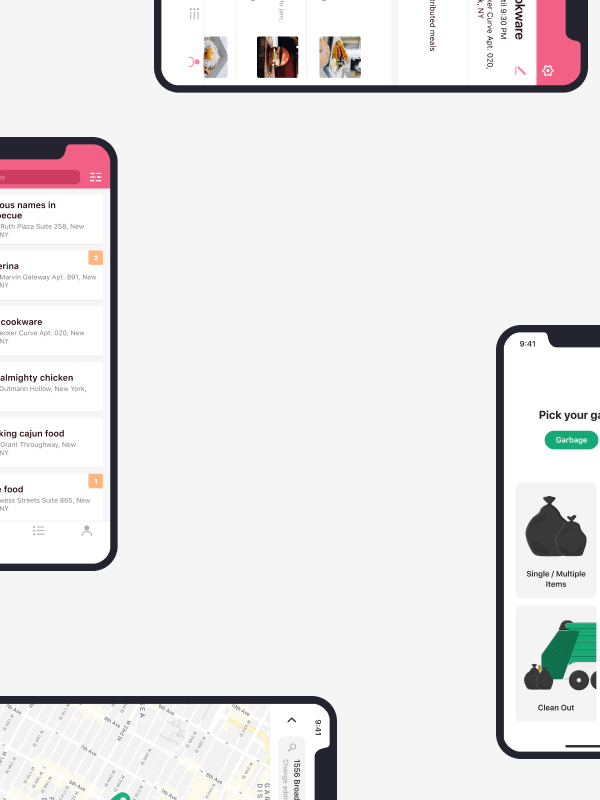 What our clients say
"The team acted in accordance with the highest professional standards."
---
"Their responsiveness is hands down the most impressive thing about them."
---
"They really care about the actual project and not just the technical objectives."
---
"They had a functional shell application up and running within weeks!"
---