Educational App Development
As a highly experienced education app development company and business consultancy, we have the skills and expertise you need to take a business idea and transform it into a real, workable and successful IT project.
Why Messapps is
the Best?
Full-service app
development
company
Experienced
developers
and designers
Ranked top app
development
company
Apps we've built
are featured in the
top tech media
Have a Great Idea?
We've got the passion, expertise, and experience you need to take the next step with your concepts. We take great pride in our ability to produce quality software and apps quickly and efficiently, and we'd be only too happy to create a functional prototype that blends your educational approach, our knowledge of the app market, and the technical know-how you need for success. It's a ferocious market out there, but with our help, you'll be able to place yourself at the cutting edge of the Educational App scene.
Do you want to discuss it with an expert educational app development company?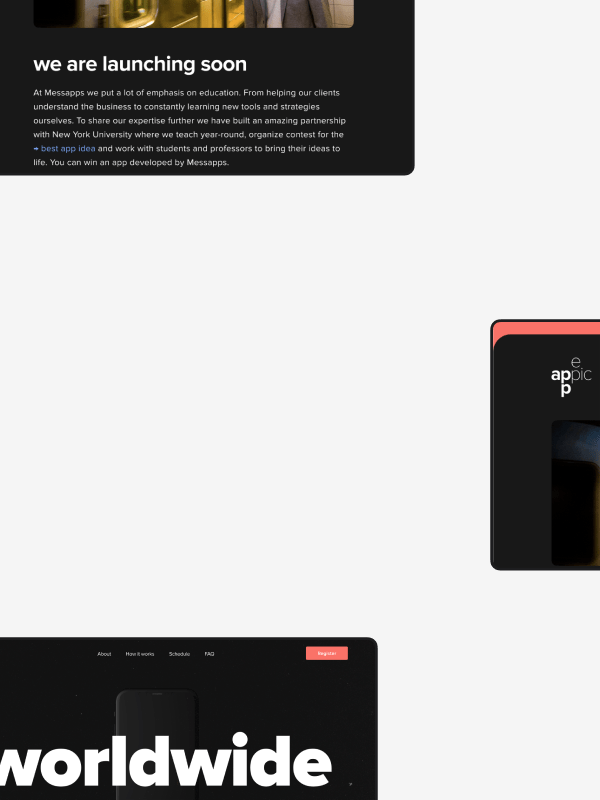 How Popular are iPhone Apps for Education?
The numbers speak for themselves: more than 180 billion apps were downloaded from the App Store. The world has a thirst for apps that seemingly cannot be quenched!
---
Educational app users take third place behind gaming and business apps and enjoy a 10% share of the market on the iPhone App Store.
Nine out of ten people around the world are considered 'potential learners' with access to a smartphone.
It goes without saying that this field is one that is highly competitive, and there are new ideas being launched every single day. As time passes, the potential market share continues to shrink, and entry into the market becomes ever more difficult. As such, it's important to develop your idea right away and stay as far ahead of your competitors as possible. Our educational app developers are more than happy to take on projects in their earliest stages and are always open to discussing fully monetized, functional, and developing apps and software.
Why are Educational Apps Booming?

Mobile devices open a whole world of information to us, with just the push of a button. With a well-developed educational app, 24/7 access to boundless data is even possible without an internet connection. What's more, all that knowledge is portable, too, meaning whole libraries of knowledge can be carried in your pocket to wherever you may be.
---
Everyone knows how hectic classes and lectures can be, and how easy it is for vital information to be missed in all the hubbub. With our custom applications, all information and material are hardwired in, and what's more, students will foster their education by heightening the expectations of their classroom experience as a result.
Alternative Learning Methods
Everybody learns in different ways, and Education Apps are the perfect tool for targeting learners who prefer seeing, hearing or doing when it comes to gaining knowledge. Personalized approaches mean greater outcomes to learning, free from time or location restraints.
---
It's easy to forget how important fun is when it comes to learning. The gamification of education with an app is a great way to engage and encourage learning and to motivate students to take their studies further.
Environmental Friendliness
Textbook learning is incredibly paper-intensive, and far from the green benefits that our apps bring. Great for the mind, great for the environment – everyone's a winner with our education apps!
Whether you're looking to have a learning app developed, some school administration software created, or a customized application made for your educational business, our dedicated team of iPhone app developers is waiting to help you.
Get in touch with your ideas, and we'll contact you with a tailored portfolio, demonstrating how we've helped people just like you in the past with their education app development solutions.
A considerable proportion of what we do involves the development of MVPs (Minimum Viable Products) for startup businesses, alongside more complex customized solutions.

What our Clients Say
"The team acted in accordance with the highest professional standards."
---
"Their responsiveness is hands down the most impressive thing about them."
---
"They really care about the actual project and not just the technical objectives."
---
"They had a functional shell application up and running within weeks!"
---