Do you want to know if there's any interest in your app or app idea?
Not sure how big the market for your app is?
Does your app offer the functionalities people really need?
These are often pain points for those who develop and market mobile apps. They are often guilty of developing and designing a product without an end user in mind.
Having a great idea for an app simply isn't enough.
An app should provide value for a specific group of people. If you take time to define your target audience first, you will save a lot of time and money during later app development stages.
Answer the questions at the start of this article and you'll find out "what your market thinks". It will give you an idea whether your app will be a success.
But how can you do this?
Implement early access feedback surveys
Let's say you already have a great app idea and started development. To make it a success, you need to be aligned with your audience.
Epic Games, creator of worldwide success game Fortnite, used online surveys in combination with user analytics, social analysis and community sentiment in order to gain deeper insights into how the audience felt about the company and their products.
Keeping track of how users perceive the game has always been an important part of the development process for Epic Games. Especially in early access, when there is often still a large amount of balancing and development to be done.
Due to their feedback loop, the dialogue between company and audience became of significant importance to the Fortnite developers, who relied on first-hand feedback to improve the quality of their game.
This approach lead to a product that has been honed and refined in the interests of the wider community, and the conversation between players and company has ultimately led to a better-finished and very successful product.
This focus on listening to the needs of early access app users as well as adapting and implementing the requested changes that gave the developers of Epic Games a competitive advantage over others.
Soft launch your app
So you have your idea validated, but how do you get your app to really stand out.75% of users uninstall an app within 90 days after installing. You don't want that.
You can waste a lot of money on your app if you don't test the waters first. A soft launch is a perfect way to optimize your app before you move to a  widespread release.
What is a soft launch?
A soft launch is a preview release of your product to a limited audience. It allows developers and app creators to acquire a small group of users, receive early customer feedback, and get rid of bugs that you missed during testing.
Another great advantage of a soft launch is the ability to increase user retention. Did you know that77% of new apps get deleted just 3 days after the download? Improving user retention should be a top priority.
Soft launches give you excellent user feedback. It's important to know what your users liked and disliked about your app. If you receive similar feedback from multiple users, then you can clearly identify a part of your project that needs some work.
As you can see in the graph above, 58% of Android and 63% of iOS users find new apps via the app store.
Soft launching is also a good opportunity to see if your app store pages are optimized. App store optimization is a crucial part of your user acquisition strategy so it's important to get this right early on, it will help you build an audience that you can leverage in later stages to get the word out.
Combine an interactive prototype with a survey
Create aninteractive prototype to draw people to your app and combine it with a survey to get valuable feedback from your users. Creating a prototype combined with a survey offers several advantages, it gives you invaluable feedback from your users. By analyzing yours and your target market preferences you can make informed decisions on how to move forward.
Secondly, it allows you to validate your idea. With a prototype, you bring the user interface design to life. User testing helps identify potential improvements.
It can bring new ideas to the table and confirm which direction to take during the development process. Since solutions to problems are given early, the development process will be more cost-effective in the long run.
Ask questions to make more informed decisions
As a method of gathering large volumes of feedback from your audience, surveys are a highly useful market research tool that can be administered for a relatively low cost, in comparison with other data collection methods.
This makes surveys or polls highly useful for app builders with an active social following. Take Bowlcut Garms, who regularly use surveys to gain marketing insights, as an example.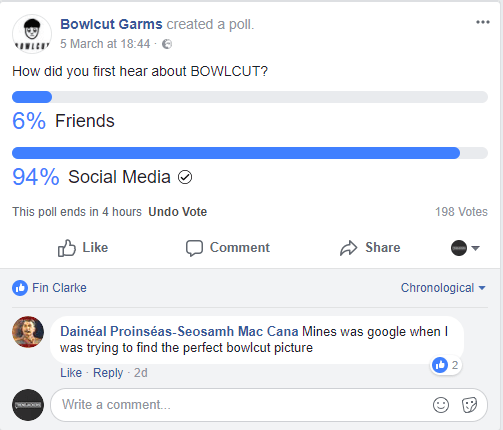 In the past, Bowlcut used their social media to collect first-hand survey data on topics such as what products customers prefer, or how audience members first heard about the brand.
This feedback can then be used to improve their overall product line, and will also provide a wealth of easily understandable data for the team to continue to fine-tune their strategy in the future.
However, in this example, these questions have been asked solely via Facebook. Be aware of respondent bias. Assume that these users may respond differently to those who are surveyed through different channels such as email or the phone.
Therefore if you are looking to replicate a similar approach, it is always advised to ask questions through multiple channels to reduce any bias that could skew your results.
Conclusion
Nowadays, having a great app idea just isn't enough.
Your app should offer great value to your audience and finding out who exactly that your audience is, is an essential step to success.
Hopefully, with these tips and tactics you can turn your app idea in an app success.
About the author: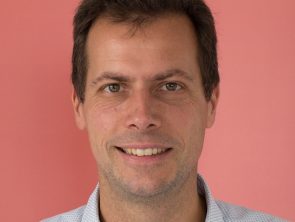 Stefan Debois is the founder and CEO ofSurvey Anyplace, an online software tool to create engaging surveys, quizzes and assessments.
Besides kite surfing, Stefan is passionate about the use of technology to build professional relationships with people, at scale.
Did you like the article? Share it!